---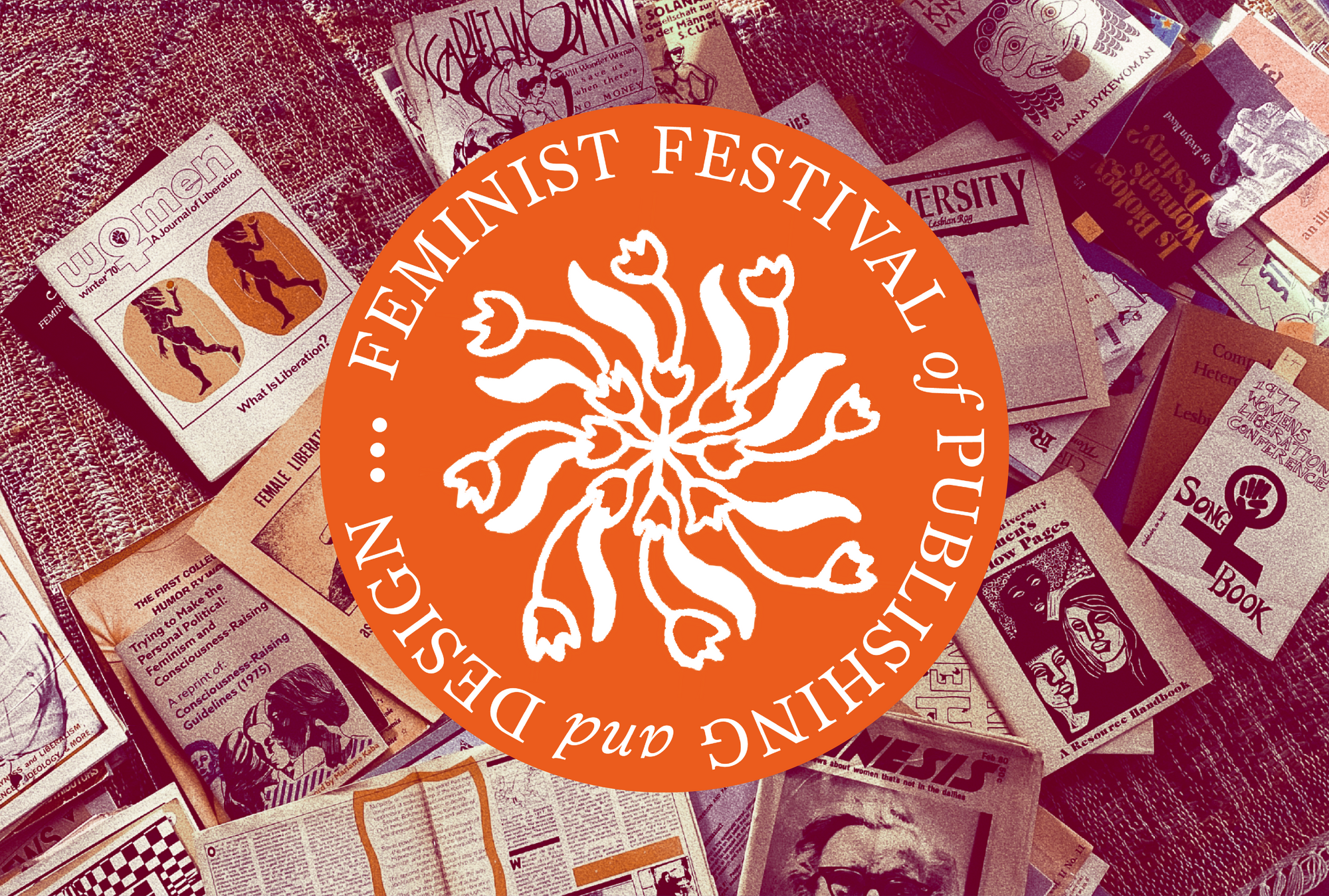 etceteras celebrates the many hands circulating feminist texts. Open to all and free of charge, this festival offers lectures, workshops, roundtables, performances, film screenings, and much more!
Feminist literacies are collective fabulations. It is through the interlocking efforts of writers, editors, publishers, designers, artists, printers, booksellers, distributors, translators, researchers, librarians, smugglers—and so many others—that feminist ideas move around. And when they do, they move us and create movements.
From October 5–7, we will explore feminist approaches to writing and editing, examine the politics of publishing, uncover the mysteries of translation, and dive into feminist archives from around the world. At the heart of the festival is our book fair, where visitors will uncover the legacy of feminist literacy through independent books, magazines, journals, zines, posters, artworks—and etceteras.
→ For the full program, please visit etceteras.net

→ For updates, join the etceteras mailing list or follow etceteras on Instagram
---
Program Overview
Thursday, Oct 5
10 am
Porto Feminist Tour
with Alícia Medeiros e Isabeli Santiago
1 pm
Book Fair Opening
2 pm
Workshop: Yours truly, XOXO
Mio Kojima, designer and educator
2 pm
Workshop: The collective author
MACHEIA, design studio

4 pm
Moderated talk: Archivism as Collective Memory
Paula Guerra, sociology professor and fanzine collector
Joana Matias, researcher and historian
moderated by Isabel Duarte
6 pm
Lecture: The Women in Print Movement
Bec Wonders, historian
Friday, Oct 6

10:30 am
Lecture: Feminist Publishing Tools
Loraine Furter, graphic designer, and researcher
11:45 am
Moderated talk: Bridging worlds: Practices of Translation
Maria Dean Múr, editor and activist
Ellen Lima Wassu, writer and researcher
moderated by Maya Ober

2 pm
Workshop: Collective Writing to Decentralize Knowledges
Flavia Doria, journalist, and activist
2 pm
Workshop: Feminist Headers: A Typography Workshop
Parasto Backman, designer and educator
6 pm
Lecture: Scaling Up with Principles, Purpose, and Pride
Sharmaine Lovegrove, Dialogue Books
7 pm
Lecture: How to Publish the Unpublishable?
Raquel Lima, poet and researcher
Saturday, Oct 7

10 am
Tour Feminista do Porto
Alícia Medeiros e Isabeli Santiago
2 pm
Workshop: Línguamãe: A Language to Break Silences
Gabriela do Amaral, poet and designer
2 pm
Workshop: Riot Grrl 4.0
Susana Carvalho, graphic designer and educator
5 pm
Moderated talk: Platforming Urgent Voices
Zinthia Alvarez, journalist Afrofeminas
Carla Fernandes, writer, and founder Afrolis.pt
moderated by Maya Ober
6:30 pm
Lecture: Cuts from the Navalha Editions
Hilda de Paulo, artist and writer
8 pm
Performance: Pataphors: A Performative Melange
Ece Canli, artist e researcher
---

Registrations
Etceteras is fully free and open to all. Lectures, moderated talks, screenings, and performances are subject to a room capacity of maximum 90 people. We recommend that you arrive early to save your seat! Workshops and the Feminist Tour of Porto require previous registration, which will become available via etceteras.net on August 1.
---

Book Fair
The fair is entirely open and free of charge. It will take place under the arches of the Rectory of Porto University, located at the city center and near several popular attractions, easily accessible with public transportation. Invited and selected exhibitors will have the opportunity to showcase and sell their books, magazines, fanzines, newspapers, artworks, and other printed matter and network with other independent feminist publishers from Portugal and beyond.
---
Accessibility
Etceteras is committed to providing equitable access for everyone. We seek to reduce obstacles at the venue, especially to persons with mobility impairments. Despite the improvements of the neoclassical preservation project and its expansion works, the Historical Building of the Rectory of the University of Porto still has some limitations in terms of spatial accessibility. Casa Comum has an entrance to the first floor of the building and to the elevator through a (mobile) ramp for persons with reduced mobility, such as wheelchair users and those using prams or strollers. It also has a baby changing facility, which is in the adapted bathroom for wheelchair users and people with reduced mobility. If you have any special needs or questions regarding accessibility at the event, please reach out at mail@etceteras.net.


Attitudinal accessibility
Our team aims to reduce communication barriers that may be caused by or result in third-party perceptions of prejudice, stigma, and any type of discrimination.
Measures and actions
The event schedule will be available in Portuguese and English, and in digital and print formats.
Guests will be asked to self-describe their surroundings in order to bring blind persons and those with low vision at the event closer together. All lectures will also include a visual description of the presentation slides.
Closed captioning in Portuguese or English will be available for all lectures.
All event recordings will be published with closed captions for deaf and hard-of-hearing people.


---
Location
Address
Universidade do Porto - Reitoria - Praça Gomes Teixeira, 4099-002 Porto Portugal
How to get here
Buses: 300, 305, 507, 600, 601, 602, 703.
STCP buses are equipped with an automatic ramp and a reserved seat with a seat belt for wheelchair users.
Metro: Aliados (line D) and Trindade (line A and C)
Train: São Bento
---
Colophon
Curation: Isabel Duarte, Maya Ober, Nina Paim
Executive Production: Geanine Escobar
Translations:  Isabel Duarte, Maya Ober, Nina Paim
Copy-editing: Susana Camanho (PT) and Sacha Fortuné (EN)
Graphic design: Joana & MarianaWebsite development: ReadyMag
Typeface: Parallel, by Joana Siniavskaja
Curatorial consulting: Isabeli Santiago
Support: Criatorio, dgArtes, Graham Foundation
Production: Calote Esférica with Futuress.org