---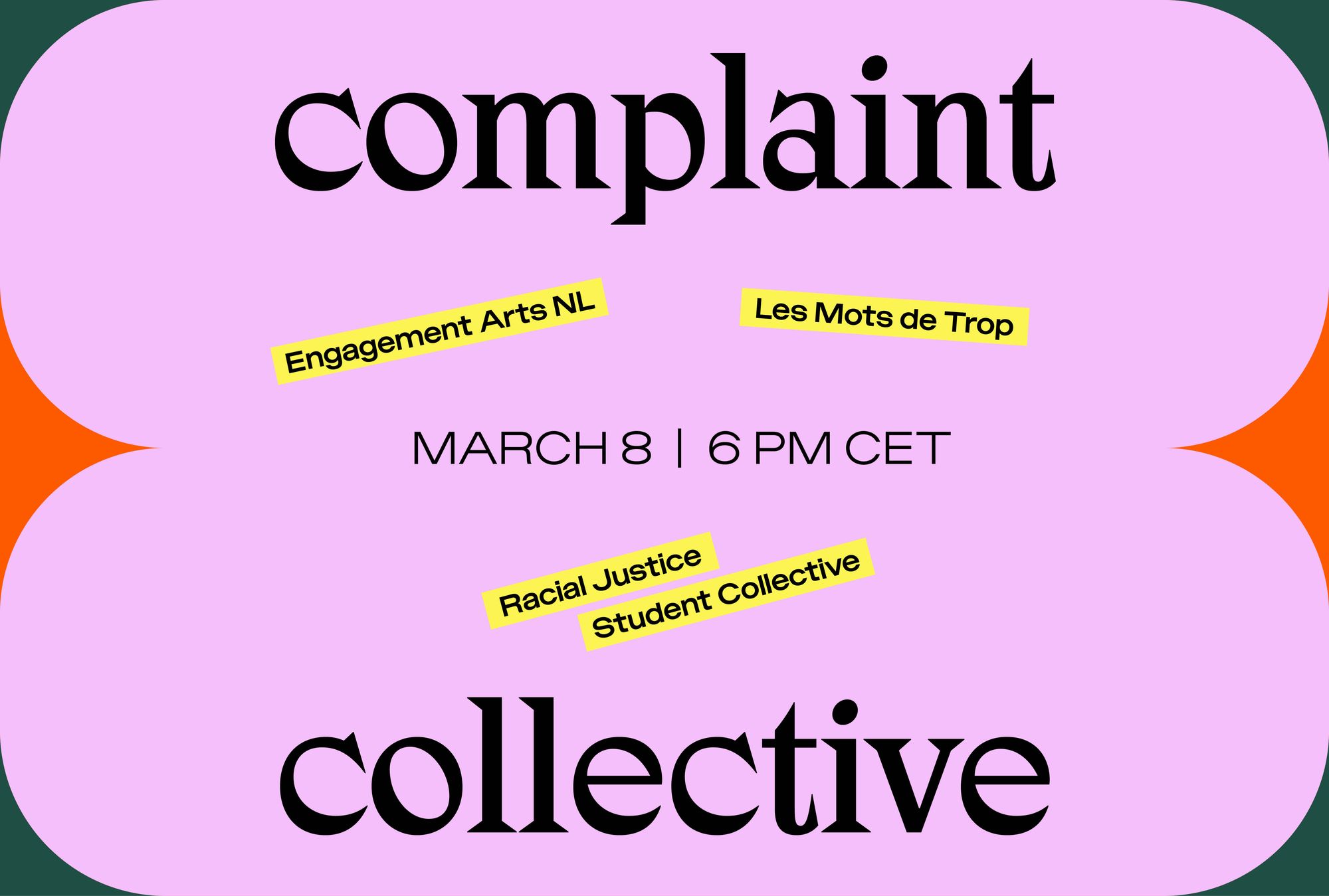 Activists share their experiences in the fight against discrimination and abuse in art and design institutions.
Since December 2020, Futuress has published a series of articles called Complaint Collective, which examines abuse and discrimination in design education. As the ever-inspiring feminist author Sara Ahmed highlights, "A collective can be a support system—what we need, who we need, to keep a complaint going."  Her ideas have been and continue to be extremely influential to Futuress, and the title Complaint Collective is an homage to her work.  
On International Womxn's Day on March 8, 2022, we will host Complaint Collective: activists against abuse and discrimination in design. This event brings collectives from France, the Netherlands, and Switzerland who are committed to fighting the abuse of power, sexual harassment, systemic racism, and other forms of structural discrimination within art and design institutions.
Racist, misogynist, transphobic and homophobic, ableist, and otherwise discriminatory incidents and practices within art and design education are not isolated, but structural. In this discussion, we will focus on the exchange of experiences, strategies, and tactics to address these systemic issues within and outside of institutions. Furthermore, we will forge alliances and foster the organization of collective initiatives, as—to echo Sara Ahmed's words—"We sound louder when we are heard together."
ENGAGEMENT ARTS NL is an artist-led movement addressing sexual harassment, sexism, and the abuse of power in the Dutch arts field. The movement was founded out of the urgency to establish support and create a safer space within the arts, with the generous support from our sibling organization Engagement Arts Belgium. As a low-threshold, peer-to-peer initiative, Engagement Arts Netherlands will offer support for individuals and communities, actively engaging with institutions, policy makers and organizations to create safer and more inclusive working environments.

ENGAGEMENT ARTS NL is represented by Delphine Bedel (she/her). She is a feminist artist, lecturer, writer, and publisher whose work emerges at the intersection of art, photography, design, and innovation. She works with leading cultural institutions, artists, designers and activists to organize community-based exhibitions, publications, conferences and research projects. Her research focuses on feminist publishing, visual culture and social justice. Bedel is the director of Meta/Books, co-founder and chair of Engagement Arts NL, and co-founder of the Roadmap for Equality in the Arts.
Les Mots de Trop is a French collective aiming to fight against all forms of discrimination within art schools through graphic design. Founded by Sophie Vela, Louna Amisse, and Agathe Delrue in 2020, it is now an association composed of 10 art students from different schools all over France. Posters, statistics, and sensitization campaigns are some of the tools they use to raise awareness.

Les Mots de Trop is represented by Agathe Delrue (she/her), whose work is a lively mix of feminism and poetry, with a specific focus on nature, food and transmission, through graphism, illustration and photography. Agathe Delrue studies graphic design in Toulouse, France.
The Racial Justice Student Collective (RJSC) is a group organized by and for students, committed to addressing systemic racism within and outside of Swiss universities and the Swiss education system. The RJSC supports student organizing initiatives, facilitates workshops for anti-racist initiatives, and offers networks of support for BIPoC students and for people who struggle to access the university due to their asylum status.
In the panel discussion, the collective will be represented by Naomi Samake and Ana Santos.

Naomi Samake (she/her), along with being a founding member of the RJSC, is an urbanist and researcher focusing on the toll the built environment has on forms of relationships, our identities, and our sense of belonging. Naomi aspires to repair systemic failures inclusively, with and for the community.

Ana Santos (she/her) is a cultural mediator and art educator who is mainly interested and engaged in issues of inclusion and cultural diversity in Switzerland. Her work projects and initiatives aim to promote racial and gender justice.