---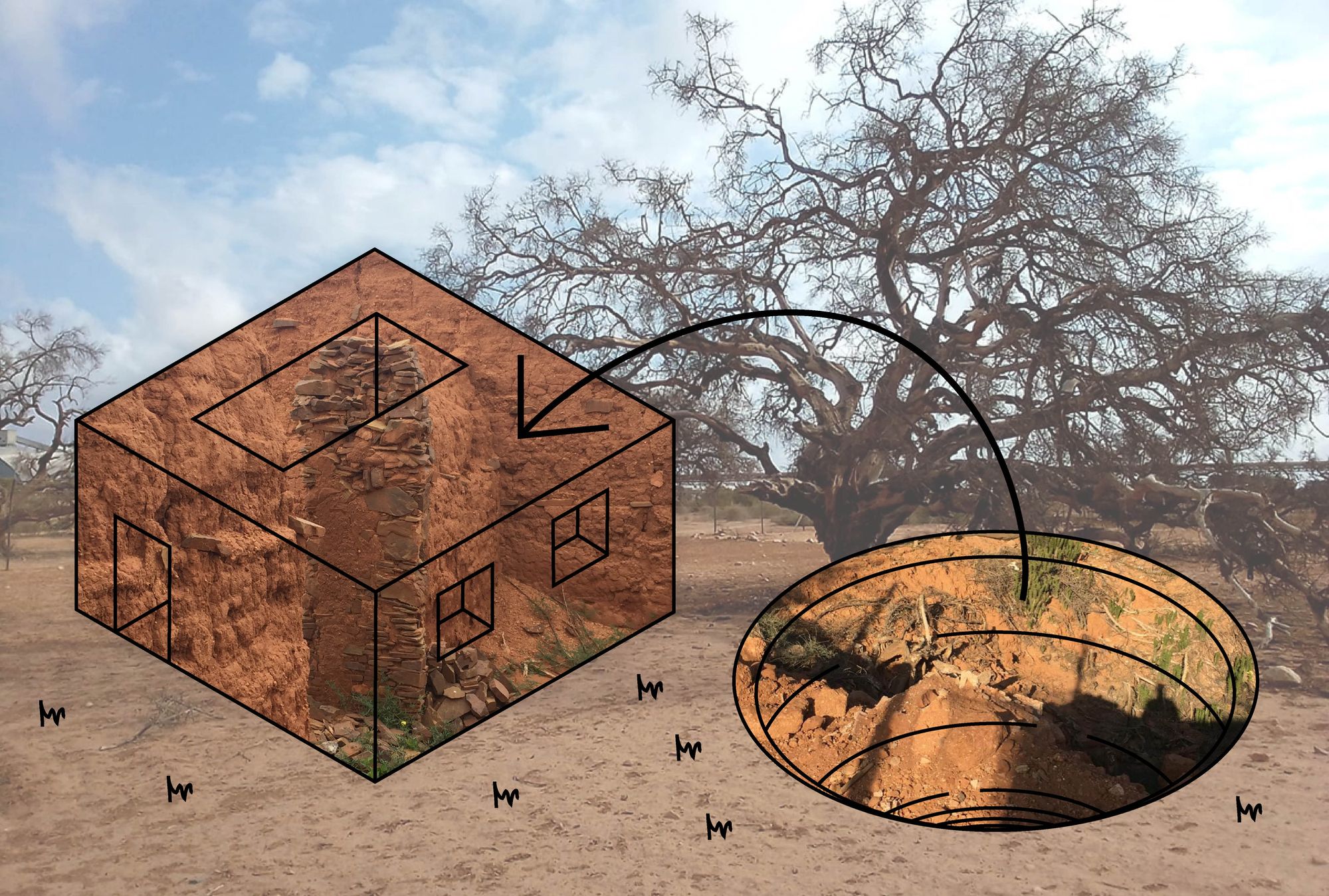 Next to the house, there is a hole; far from the city, there is a crater.
In February 2021, as Switzerland's long and somber winter persisted, I decided to flee the freezing darkness of Europe and seek the arrival of spring in Morocco. My friend Rachid had invited me to visit him in his native village of Igrar.
After a stunning journey crossing the Atlas Mountains, I finally arrived in Igrar, where Rachid excitedly awaited me in front of his house. The arrival of spring was palpable, with generous rainfall blessing the land this year. All the hills were covered with a thin green layer, the first grass of the season. Situated in the Souss-Massa province of Morocco, the village is nestled in a region known for its fertile and nutrient-rich soil. Over time, the province had transformed into a hub of agricultural production, scattered with large-scale monoculture intended for the global market. Indeed, there is a high chance that the tomatoes, capsicums, or even coriander that find their way onto European supermarket shelves during winter are the fruits of this exploited land and bodies.
"This method of construction [using adobe] used to be widely popular in Morocco, and is deeply rooted in its ancestral and Indigenous architectural heritage."
As soon as I dropped off my belongings in Rachid's home, he took me on a stroll around the village. Walking around a dozen houses, a collection of palimpsests organized in an organic plan, I noticed that the village was a testament to different building techniques employed over time. A few houses constructed using adobe still stood proudly, though only some of these were currently inhabited. This method of construction used to be widely popular in Morocco, and is deeply rooted in its ancestral and Indigenous architectural heritage.
As we were walking through an abandoned adobe-made house that had collapsed, I noticed a big hole in the garden adjacent to it. Intrigued by this conspicuous and deep excavation, I asked: "Why is there such a big hole in the middle of the garden?"
Rachid pointed towards the hole, visibly surprised by my question. "This hole? It's the hole of the house."
Confused by his response, I said: "What do you mean by the hole of the house?"
"To build a house with adobe, you need the earth that is right under our feet. So someone dug this hole to extract the adobe, and used it to construct the house right next to it."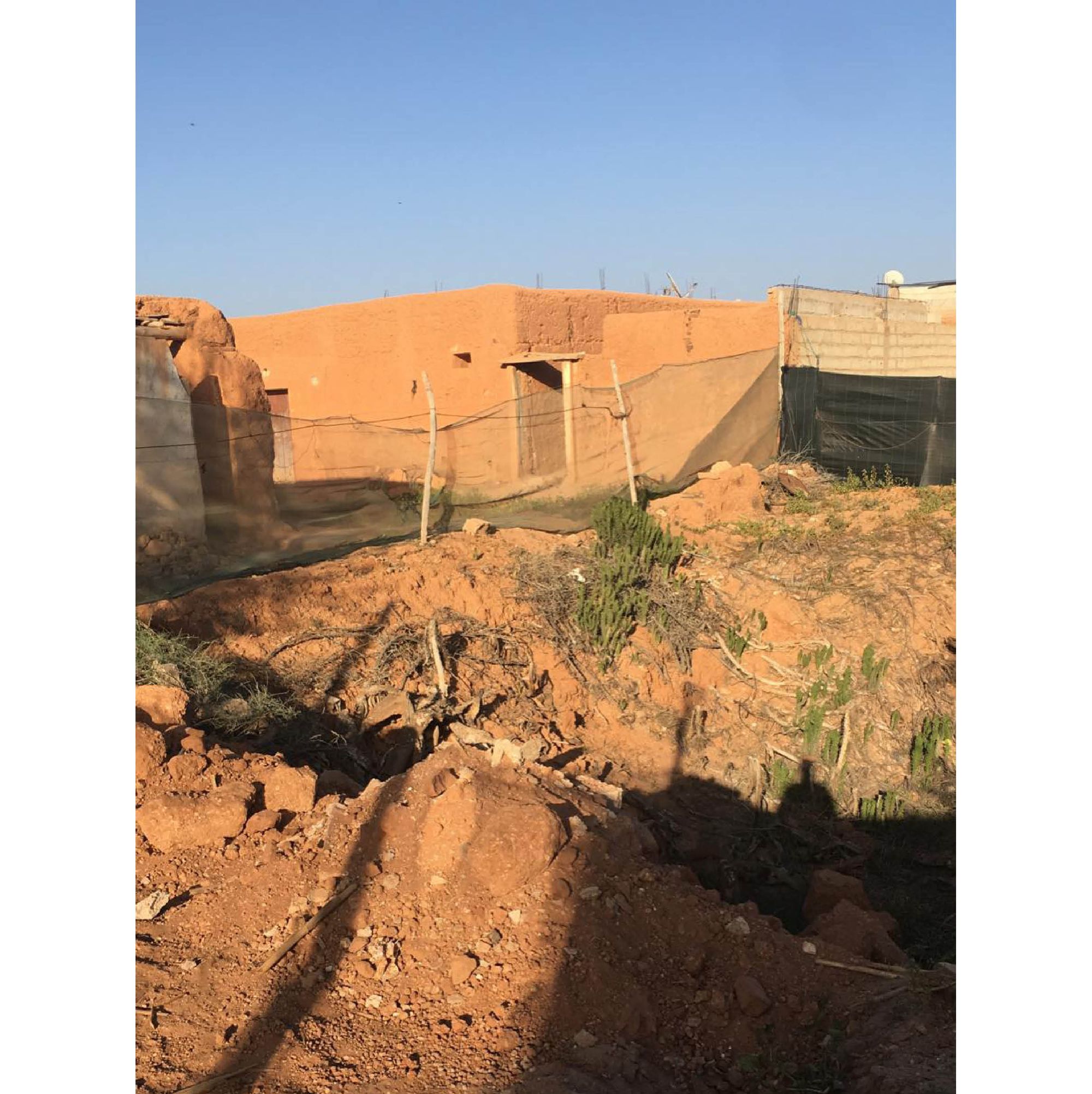 Baffled by Rachid's explanation, I stared silently at this construction. On one hand, I was fascinated by the explicit continuity between the construction and its material origin below our feet. On the other hand, a sense of suspicion crept in as I realized how my own mindset, molded by an extractivist society, struggled to comprehend the connection between the hole and the house lying next to it. My reaction was telling of how my environment in Switzerland, shaped by the industrial exploitation and extraction of natural resources, was in stark contrast with this man-made construction that stood in a thoughtful and transparent relation to its environment. Every construction requires materials, and those materials must come from somewhere. So where are the gaping holes of the boundless resources required for the building of our metropolises?
"Presenting itself as a cheap and accessible alternative to other construction materials, concrete is replacing adobe and the knowledge associated with its construction."
In the process of world domination, the western colonial mode of inhabiting has conveniently shifted these holes to distant places towards the South, where exploitation, extraction, and violence can be kept out of its sight. The physical and epistemic disconnection of the resource from the construction—in other words the distancing of the hole from the house—fosters disregard for the violence inflicted upon natural resources, populations, and territories required to sustain these "modern" modes of living. Maintaining the disconnection between source and material is essential for perpetuating colonial ways of inhabiting. Moreover, it imposes itself as the sole and only possible relationship to the land.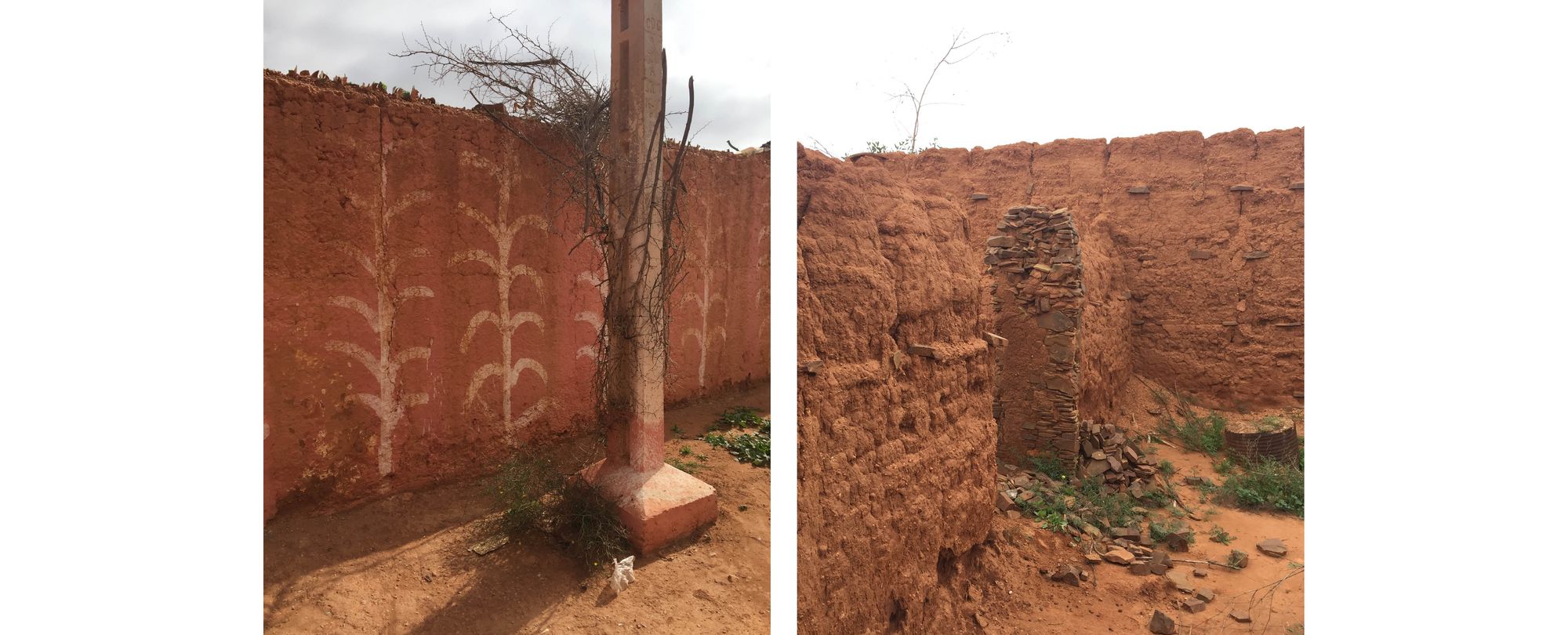 This extractive logic has colonized—and is still colonizing—indigenous and ancestral modes of inhabiting. Over time, concrete has infiltrated domestic life, both in cities and villages throughout Morocco. Just a few kilometers away from Rachid's village, the French-Swiss multinational company Lafarge-Holcim established a cement production factory. The production process spews highly volatile dust, covering the surrounding land with a gray blanket, destroying plant life and local crops, as well as the health of the people living close to the factory. Presenting itself as a cheap and accessible alternative to other construction materials, concrete is replacing adobe and the knowledge associated with its construction. Indeed, a construction made of adobe has multiple qualities, but it requires care and thoughtful attention throughout its lifespan. As it disappears from use, so too does the rich knowledge embedded within its construction and relation to the land.
During my visit, Rachid explained that many families have either replaced their adobe walls with concrete bricks or reinforced existing walls with concrete. The difficulty in maintaining houses and the rural exodus has left many houses collapsing. Abandoned houses are sometimes completely dismantled to reclaim the land on which it was built in order to do new construction. In this process, the walls are removed and thrown back into the hole. Looking at me, Rachid laughs and says: "It's like us—after their life, they return to the land!"

Iskander Guetta (he/him) is a designer, mostly based in Lausanne, Switzerland. In 2018, as part of his diploma work at ECAL, he explored the housing conditions in swiss underground shelters of asylum seekers and homeless people with his project ABRI+, shortlisted for the Swiss Design Awards 2019, exhibited at WantedDesign Brooklyn, and during the Dutch Design Week 2018. After graduation, he spent several months in Morocco in order to explore other design practices, outside the neo-liberal Western world. In early 2020, and again in 2022, he works as a fellow designer at the SELCO Foundation in Bangalore. This opportunity allows him to gain a better understanding of design in the Global South, in order to better perceive the intersecting issues of ecology and decolonisation, which he tends to bring to the fore in his design practice.

This text was produced during Resistance Stories of Design—a workshop organized by Onomatopee and Futuress as part of the HistoricALL! project. The text was first published in the riso-printed homonym zine HistoricALL! A collective rewriting of design history with an introduction by Maxime Benvenuto as well as contributions by curator Cecilia Casabona, all workshop participants and the workshop leaders, Alvin Arthur, Mayar El Barky, Annika Frye, Kilian Frieling, Noam Youngrak Son, Maya Ober, Margarita Osipian, and Leanne Wijnsma. This version of the text has been slightly edited.