---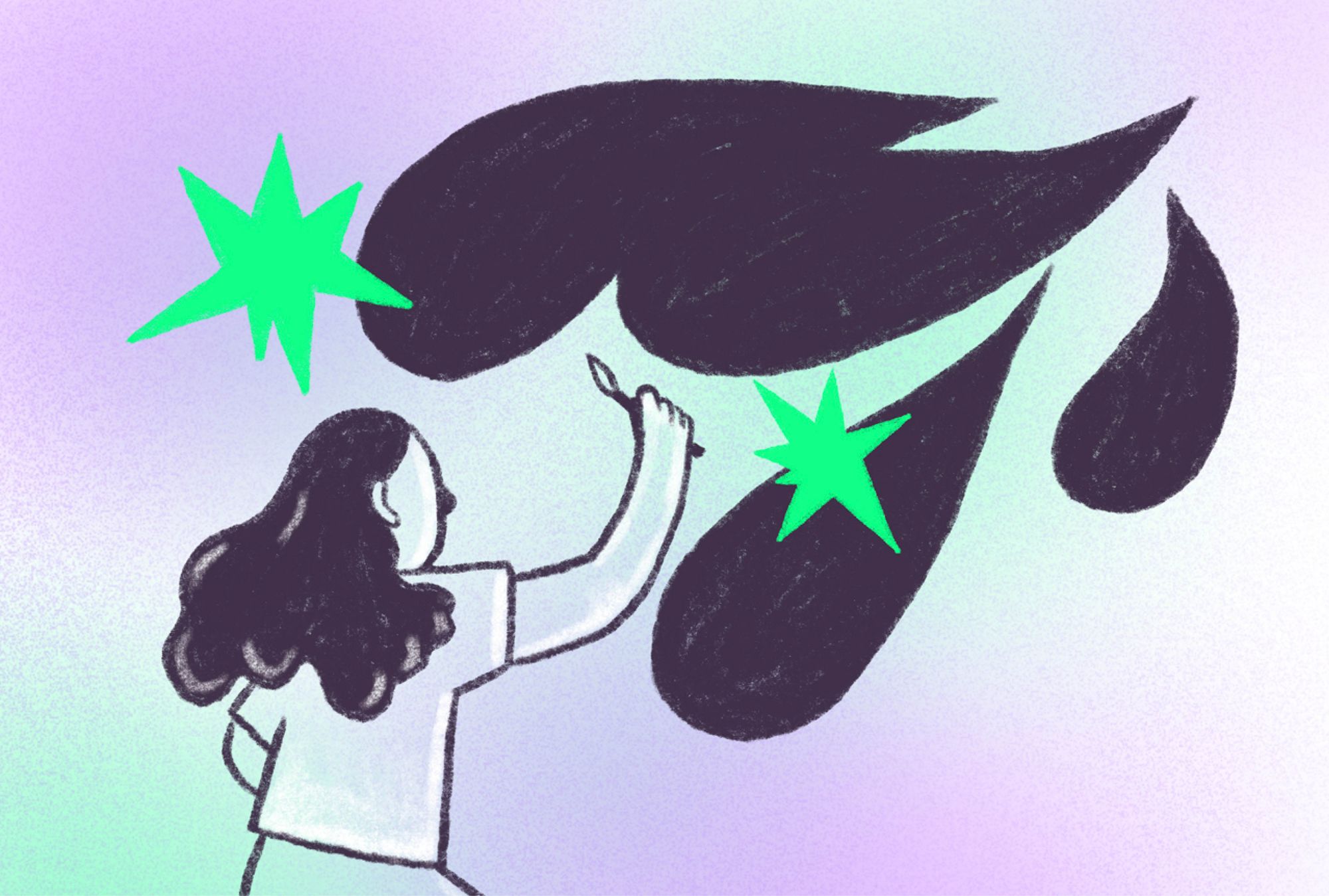 Trigger warning: Before you start reading, please note that there are graphic descriptions of sexual, racist and ableist violence in this text.
"What a waste you're a lesbian."
"Seeing you drawing like that makes me horny."
"Let's see who's Jewish in this class."
"If you can't speak French, go back to your country."

These are just a few of the 343 testimonies of harassment, abuse, and downright violence we received as the student-led platform Les Mots de Trop. Collected anonymously through an online form since March 2020, the testimonies detail words and deeds of sexism, racism, ableism, classism, anti-LGBTQ2IA+ hatred, fat-shaming, anti-Islamism, anti-Semitism, and more. They stem from over 100 different art institutions in France, but also from French-speaking art schools in Belgium and beyond. The oldest testimony dates back to 1984—a glimpse at just how long these issues have been entangled and normalized within art and design education. What is the impact of such language in students' minds, work and careers? And how can we take action to bring about change?
Despite the long-lasting reputation of May 68, French art schools have historically stayed out of political debates. For a while, France seemed immune to the larger global forces challenging patriarchal structures. In 2017, #MeToo was off to a sluggish start: despite receiving tens of thousands of responses, Sandra Muller's #ExposeYourPig campaign triggered an overwhelming backlash, with some of the country's most prominent women, led by Catherine Deneuve, denouncing #MeToo in a letter. In 2019, a new wave started picking up steam with celebrities such as the actress Adèle Haenel among the first to break the silence and openly talk about sexism.
It was in this climate that the three of us met in 2018 at the École Européenne Supérieure d'Art de Bretagne, the EESAB, in Rennes, one of the 46 public higher art schools in France. Before arriving, we genuinely thought we were entering a safe space, one where we could experiment and create freely without judgment, where teachers and students treated each other as equals on a first name basis. However, we quickly realized that this apparent freedom and informality hid a much darker side.
"When we complained to the administration or teachers, they defended him, justifying that he was a man 'from another generation.'"
In our first year, the three of us were victims of sexism from one teacher who called our feminist work soppy and girly, and gave us inappropriate looks. In addition to that, on multiple occasions, we witnessed him engaging in racist abuse. About a female classmate, he said: "You shouldn't film her skin, it's too dark" and, to our French colleague from the overseas department La Réunion: "If you're not good at writing, it's because education is not well done in your country." When we complained to the administration or teachers, they defended him, justifying that he was a man "from another generation."
The Coup de Grâce: An Intolerable Irony
Art schools do not exist in a vacuum—they are not exempted from the broader systems of oppression operating in society at large. But as we realized, their lack of boundaries is insidious, which means that often one cannot identify violence at first sight. These blurred limits are ingrained into the very nature of art education, which is often thought to be personal, intimate and self-revealing. At least in France, art schools are perceived as places where you have to focus work on personal feelings, stories, experiences—thereby being exposed to a certain kind of vulnerability. But how are we supposed to reveal ourselves when we do not fit into the mold? How can we show vulnerability in an environment where we do not feel safe?
What many might perceive as a simple joke or a harmless comment can be as violent and scarring as a physical assault. Verbal abuse is not only a form of harassment and intimidation, but also sets the stage for further, more violent attacks. As we discovered, when you finally address the issue, schools and institutions immediately find excuses. This is where the "other generation" argument comes in—normalizing sexual innuendo, "accidental" physical contact, racist remarks, unashamed misplaced looks, and worse.
In 2020, that same teacher reappeared on our schedules, and this time he decided to focus his class on the topic of "feminism." This was the coup de grâce; an irony we simply could no longer tolerate. After three years of being silent—or at least not being heard by school administrations—we chose to boycott his course and raise awareness around his problematic behavior. We began collecting testimonies of harrassment in our school and hanging feminist stickers on the walls, which were ripped off quickly as we started receiving testimonies concerning not only this teacher, but also other professors, technicians, school staff, and fellow students.
As a flurry of testimonies came in, the direction delegated the responsibility of collecting them to us, by informing the entire school that we were people to refer to in these situations—without any prior warning to us. Despite their "good intentions," it placed us in a position we did not ask for, nor were prepared for. Then, they expected us to track willing students to get detailed written evidence on the record. Of course, realizing their names would be shared with the administration, students were more reluctant to get involved, and we received very few testimonies from those willing to go on record. With this poor harvest, the school made it clear that there was not much they could do, and the process was interrupted. The bottom line is: when power structures are insidious, anonymity allows victims to share their stories without being dismissed, expelled, ridiculed, or put at risk of retaliation.
Realizing the problem was systemic, we felt the urge to talk about it beyond the confines of our school. In March 2020, we launched an online form called Les Mots de Trop, which literally translates to "words too many" or "the last straw." We asked people to anonymously submit verbal aggressions they experienced or heard in the context of art and design education. People could submit an email address for follow-up questions, but we did not verify the claims, and opted to simply believe the victims. We circulated the form on social media and through our acquaintances in other art schools. Quickly, the first submissions started coming in—not only describing instances of verbal harassment, but also physical and psychological abuse.
"We chose quotes to highlight different forms of discrimination—from sexism, to racism, LGBTQIA+ hatred, and beyond—understanding that these issues cannot be denounced separately, but they have to be seen in concert."
With the support provided by our graphic design teacher Isabelle Jego, we started working on a series of freely downloadable posters, so that other students throughout the country could easily access and utilize them to launch their own initiatives. We chose quotes to highlight different forms of discrimination—from sexism, to racism, LGBTQIA+ hatred, and beyond—understanding that these issues cannot be denounced separately, but they have to be seen in concert.
In June 2020, having received around 70 testimonies, we launched our website with the first series of 40 posters. Then COVID-19 forced all schools in the country to close, and our plan of physically disseminating posters became impossible. But then something more impactful happened: the posters were digitally dispersed on the internet. In one week, our Instagram account reached 1000 followers, and dozens of testimonials started flying in. As words inundated our mailboxes, we started realizing the magnitude of the issues at hand.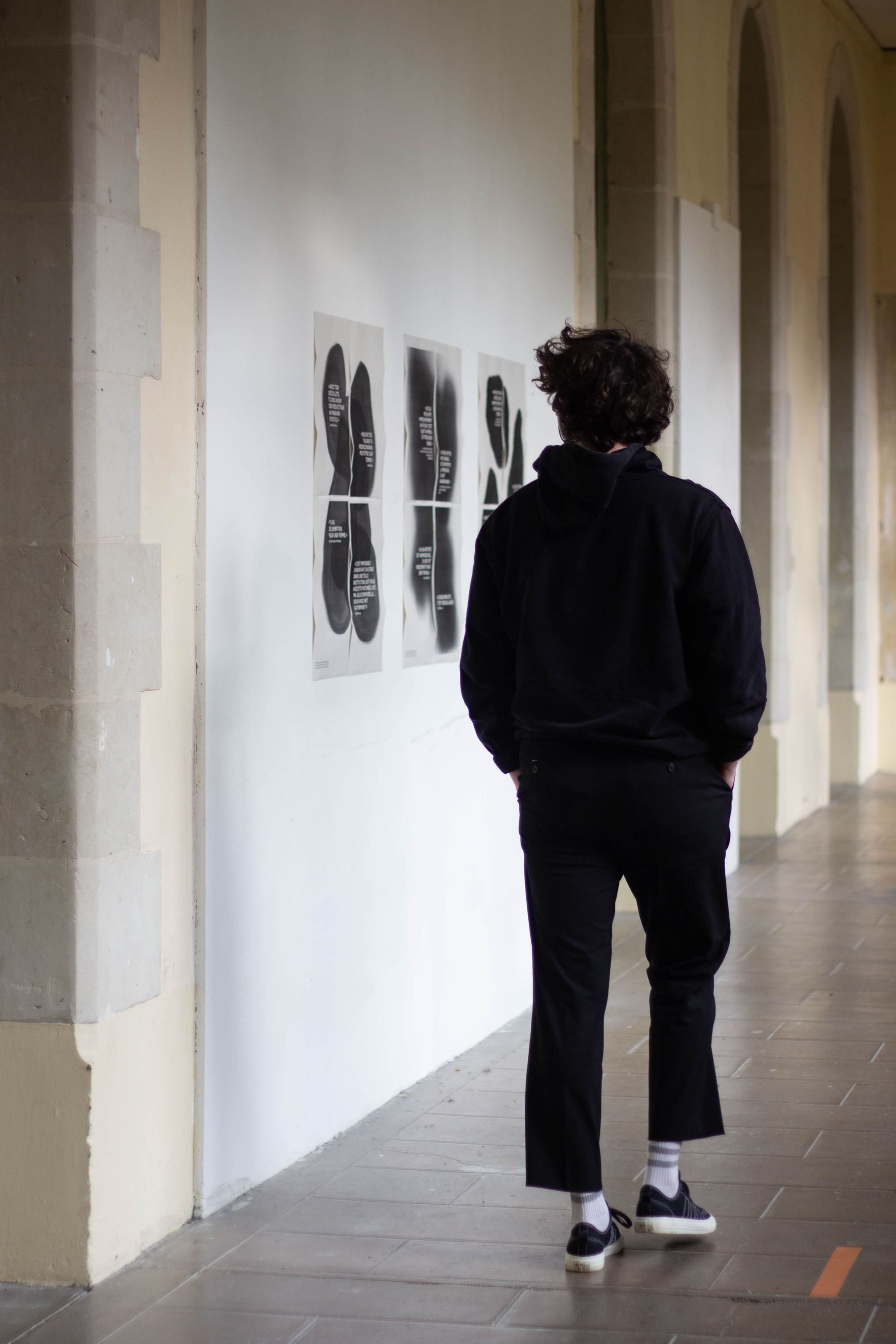 "You're less girly when you're angry"
In France, women started being accepted—or tolerated—in art schools by the early 1900s. More than a century later, prejudice, stereotyping, and discrimination are still vivid. Almost 40% of all testimonies we received detailed instances of misogyny and sexism, and with half of all cases uttered by male teachers in the pedagogical team. According to activist association HF, which identifies and quantifies the gender gap in the art sector, women represent around 65% of France's total number of art students, but they participate only in 33% of art exhibitions in the country. It is evident that outside of art school, the cultural field closes its doors to women artists and designers. This brings us to the heart of the matter: if you didn't feel legitimate as a student, how can you build a career?
Sexism and misogyny are expressed in a myriad of ways, from the banal critique of "this is too girly," to statements such as "architecture lost its prestige since women got into it," heard at UCL Bruxelles, in Belgium. Sexism comes with rape culture and objectification of women, and is materialized in sentences such as "Polanski can rape as many woman as he wants, as long as he direct good movies," as uttered by a teacher at Esbama, Montpellier. "If all my students were dressed like you, I'd be happy to come to work," a student reports hearing from one of her teachers at isdaT, Toulouse.
The violence goes all the way down to incitement of rape, exemplified by a teacher from Académie Charpetier in Paris, who randomly referred, as a "joke" or a pun, to an absent female colleague by saying "one holds her, two fuck her."
"According to the French law, all of these instances constitute sexual harassment, defined as an expression of sexual demand under pressure, exercised by a dominant position."
But it's not just verbal. Female students are often targets of unwanted sexual solicitations by male members of the teaching staff. "Young one, I'd fuck you here, here, and there," said a school technician from ESAPB Biarritz, as he walked a female student from the paint studio to the main class building. "What happens at this party stays at this party," said a teacher as he gripped his student's arm during an evening at ESA Tourcoing. "This has nothing to do with pornography," said a teacher from the EESAB Rennes, after sending explicitly erotic texts to a female student. "You can't say you don't like it if you haven't tried," said a teacher, proceeding to try to kiss his student who just told him she was a lesbian, during an evening party at Le Concept, preparatory class in Calais. According to the French law, all of these instances constitute sexual harassment, defined as an expression of sexual demand under pressure, exercised by a dominant position.
Several accounts also detail the way how rape experiences are minimized and banalized by educators. "C'mon it's fine, it's not like this is the same as getting raped!" said a teacher to a student who voiced anxiousness about sharing her writing at ESAD TALM, Le Mans. "You've got to move on; stop moping about small things like that," said a teacher to a student after he was told about the rape she suffered at the hands of a colleague at ArBA-EsA, Bruxelles. "You should think less about boys and more about school," said another teacher to a student from Emile Cohl, Lyon, who voiced her struggle to recover after being raped. Although more than three quarters of all anonymous submissions detailed firsthand experiences of verbal aggression, we also received several accounts of physical aggression, including rape.


"Art schools drowned me back in depression"
Sexism is followed by racism, ableism, classism, and multiple forms of LGBTQ2IA+ hatred. A Black student at EESAB Rennes, whose work focused on Black identity, recounted hearing from white teachers that she was "giving a bad image of the Black community" and that what she was doing was "useless." A Mexican student in HEAR Mulhouse was told that she had only been accepted at the school to fulfill the quota of foreign students. During the entrance examination of the prestigious ENSCI Les Ateliers in Paris, an applicant from the countryside was told: "I hear your accent, but you know Paris is a huge city; don't you think you'll be lost?" "Do you find it normal that your daughter kisses other girls at school?" a teacher asked a parent during a meeting at École Émile Cohl in Paris. "Haven't you ever met any young men who awakened the woman in you?" a senior member of the administration in the same school questioned a student after he was outed about his female-to-male transition. "Inclusivity has no point" was heard at École Bellecourt, Lyon.
France art schools often bankroll on the image of diversity. Back in 2018, a private school notoriously blackfaced a group picture, to pretend to have students of color, and most schools claim to offer international programs, despite seldomly using English as their main communication language. Within this scenario, Asian racism is particularly prominent. Foreign Asian students who are still learning French and thus using English as their main language, are often met with ignorance, lack of support, open contempt and mockery. A student from ESAD TALM in Tours reported how a teacher would only teach the class to the "others," since the Asian students "don't ever get a word in."
"With 13% of testimonials denouncing contempt towards depression or mental illness, it is clear why many neurodivergent and anxious students don't feel safe."
Ableism—prejudice against those with physical or mental disabilities—is the third most reported discrimination. "The school should not adapt itself to people with disabilities; people with disabilities should adapt themselves to the school," said a senior administration member to a disabled student at ESAD TALM, in Angers. With 13% of testimonials denouncing contempt towards depression or mental illness, it is clear why many neurodivergent and anxious students don't feel safe. "Art schools drowned me back in depression," said one female student about her experiences in several art schools in France. A student from the private school Emile Colh in Lyon shared that several of her colleagues suffer from severe depression and some even ended up trying to kill themselves—information that is only known from word of mouth, as these instances seldomly get reported in the news. We do however, sometimes hear of those who commit suicide —for example last year, a 21-year-old student at LISAA, a private art school in Paris, committed suicide because of the harassment, as reported by the Capital magazine. But of course, the reason behind these situations may sometimes not be able to be proved, and there are many who have been lost to suicide without those around them knowing the real reason—not to mention the countless others who struggle daily with these thoughts and feelings, and may never be able to even voice them aloud.
Mental illness and depression are often stigmatized as laziness, or lack of participation or will. A former student from the preparatory course of ENSBA Lyon mentioned a teacher's announcement that every year, at least one student ends up going to a psychiatric hospital, which was deemed as "normal." In ESADMM Marseilles, when a student cried during her final exam, her teacher said: "Do you realize that crying is forcing us to feel guilty? It's very authoritarian." A student from ESAD Orléans heard a teacher say: "If an art school is not a bit painful, it's useless."
"What is presented as 'advice' or 'feedback' often makes up for violent discrimination, targeted at students when they are most vulnerable."
The majority of accounts received took place during stressful moments—admissions, oral exams, critiques, group meetings and project presentations. What is presented as "advice" or "feedback" often makes up for violent discrimination, targeted at students when they are most vulnerable. After the final exam at the ISBA Besançon, a teacher reportedly told his students: "I don't want to see your shit on the walls so soon in the morning." A student from an unnamed Parisian school recalled being told: "If you're not strong enough to handle the pressure, you should give up this school." Too often, students are told that they are "lucky" to be in these studies, because programs are so selective. This is normalized to a point that one member of the pedagogic staff at the preparatory class MANAA Caen felt entitled to tell a student, "If you don't succeed, you'll continue working as a cashier."
Almost 10% of all testimonies describe victims having their studies jeopardized because of their identity—who they are, or how they feel. "You lower the mood of the whole class; we can't drag you along like a burden," said a senior member of the school administration, justifying the expulsion of a student suffering from severe anxiety in the private school Aries-Brassart, in Meylan. "Embroidery is such a good girly thing," said another senior staff member during a final exam, to a student who later dropped out of school. All in all, we counted seven students who stopped studying, either because the school expelled them by considering them "invalid" or because they voluntarily decided to drop out.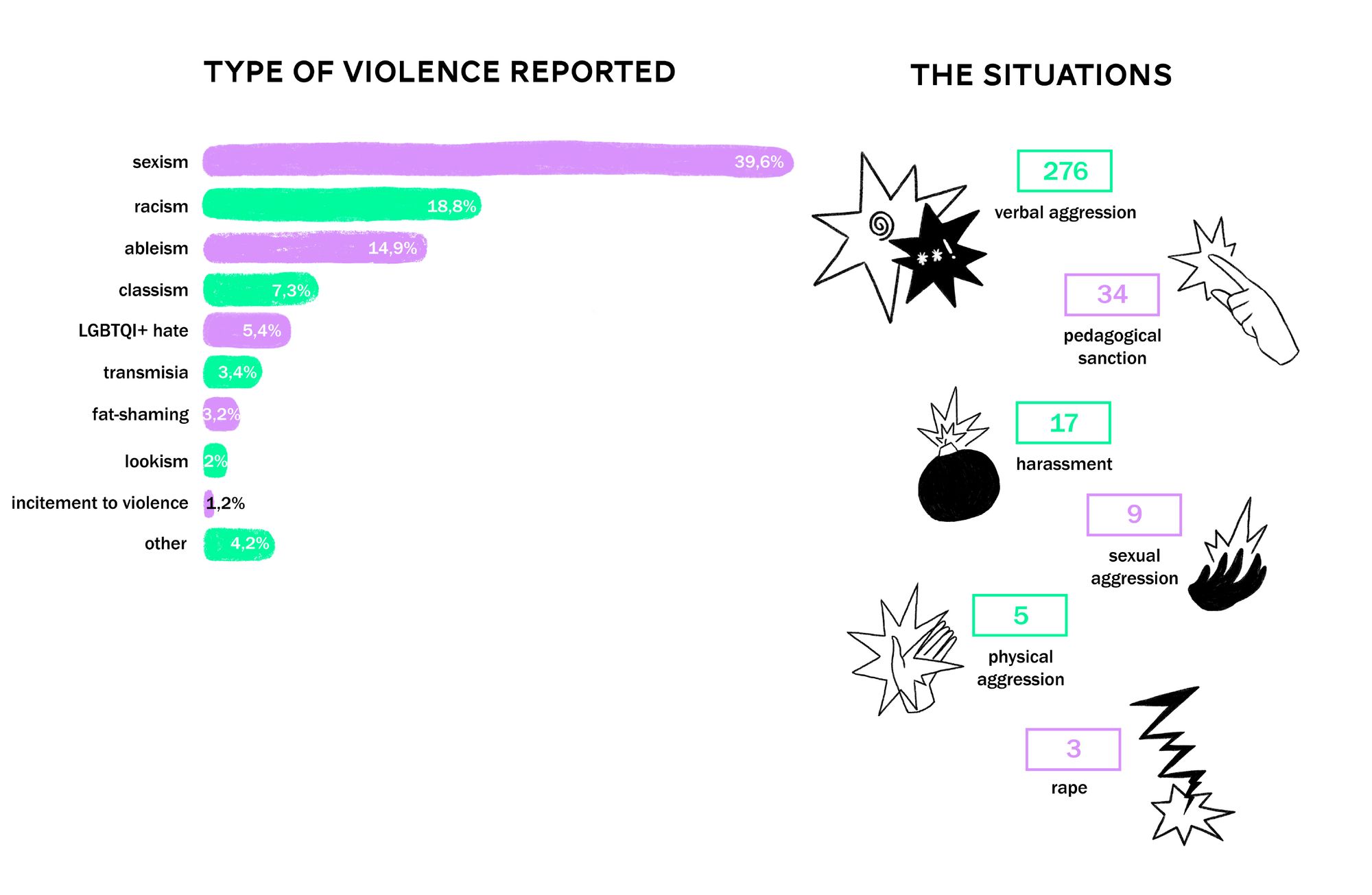 Witch hunt
Although we've always been supported by a few teachers, once the first posters were pasted on the walls of our school, many felt disturbed, up to the point that they would say—ironically enough—that we were engaging in a "witch hunt." In April 2020, the school asked us to remove the flyers in which we asked for testimonies from students we had made for their Open Doors event, so as "not to tarnish their reputation." And if you're wondering about that problematic teacher, the school summoned him for "a call to order," and he stopped teaching shortly thereafter due to "an early retirement." His departure, however, seems part or recurring practice of surreptitiously eliminating "bad apples," rather than addressing the structures that enable discrimination in the first place.
"Codes of conduct are useless if they are not paired with real institutional change addressing the root of the problem."
In 2015, France's National Association of Higher Schools of Art, ANdÉA, formulated a charter listing various anti-discriminatory policies that schools should commit to ensure equality of any kind, including for example "warning of any form of violence and harassment," "fighting against any kind of discrimination," or "fostering an equal representation of men and women in any instance in order to warn structural mechanisms that lead to inequality." The final point is about fighting "sexist and gender attitudes, all discriminations and against sexual, sexist, and homophobic violences," but don't ever focus on racism or other kinds of discrimination. All 59 ANdÉA-affiliated schools have either endorsed the charter or written their own code of conduct. In spite of that, we received 208 testimonies from 40 French school members of ANdÉA. This aptly demonstrates that codes of conduct are useless if they are not paired with real institutional change addressing the root of the problem.
Students from HEAR in Mulhouse collected numerous testimonies of sexism, racism, and LGBTQIA+ hatred. Once they shared them with the school administration, they were told that because the testimonies were anonymous, they constituted defamation and could not be accepted. After being called a "bitch," a student from ESADHaR Rouen reported the aggression to a member of the school direction, who spitefully reacted by merely saying: "Oh, he must have his reasons." Indeed, most schools refuse to open any case without testimonies on the record and recent evidence. What is more, multiple victims shared that, once they decided to report the abuse, their version of the facts was questioned, minimized or denied.
Looking at other cases from all over France, and correlating that with our own experiences, we can only conclude that this consists of a systemic failure to address those issues. By obstructing complaints, real action is hardly ever taken. If schools have a hired equality officer, this person is often somebody from the administration accumulating yet another title, not someone who is properly trained and solely dedicated to this function. Therefore, schools merely "perform" the work of equality, diversity and inclusion, but everything remains the same.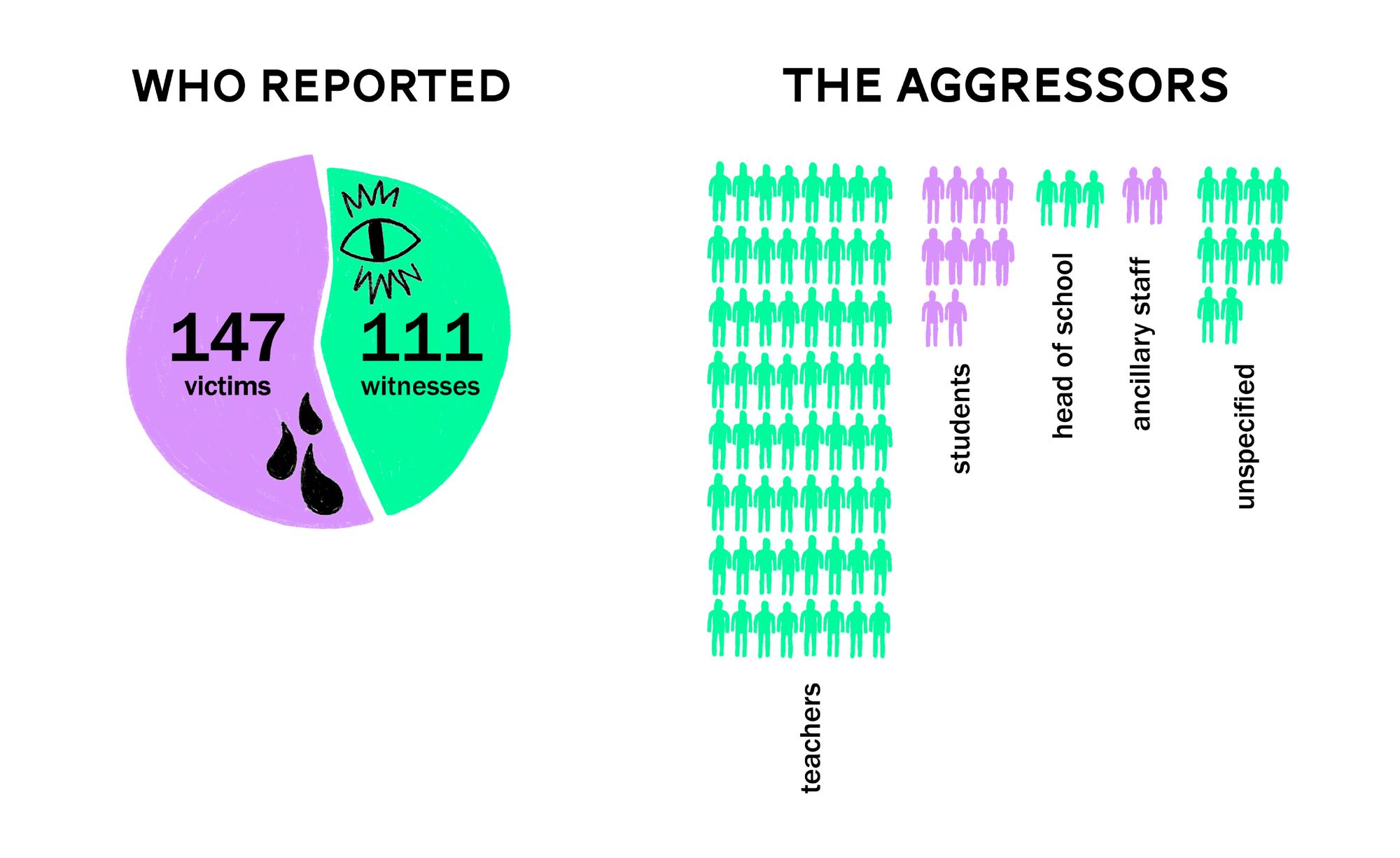 Flipping the Game
In 2018, students of the Paris' Beaux Arts (ENSBA) broke the silence over their director's racist and sexist behaviour, forcing him to eventually step down. For the first time in years, an art school seemed to be involved in a political debate. At the time, this scandal was portrayed as a single story, not a systemic issue affecting art schools at large. In September 2020, six months after launching Les Mots de Trop, the headmaster of ISBA in Besançon was fired following accusations of harassment. Public art schools are under the jurisdiction and administration of the Ministry of Culture, which has the duty to decide on sanctions. According to the 2021 report about inequality in Culture, since 2014, this type of sanction has only been approved 13 times, always against men—thus echoing the importance of denouncing the violence we have been witnessing in the last 12 months.
Once Les Mots de Trop started to grow and gain visibility, our school's discourse changed towards us. They suddenly thanked us for this project, and instead of asking our posters to be removed, we were encouraged to display them on the exhibition walls. The school didn't investigate the testimonies we had collected any further. Notably, apart from the "early retiree," all other alleged harassers are still employed and teaching to this day.
In June 2020, we were contacted by the Equality Project department of the French Ministry of Cultural affairs, who welcomed the initiative, and wanted to collaborate. After a long negotiation, we allowed them to officially send our work to all 114 schools under their supervision, adding the Ministry helpline. This support allowed for students from schools which didn't want to involve themselves in this debate to print and show the posters with institutional approval. Then, in October 2021, we got invited to lead a workshop for the first year students at ESAD Valence. This allowed us to warn the newcomers about what they might be confronted with, making them aware of their individual and collective power, and stressing their legitimacy to stand up against abuse and make their school into a safe, creative and political space. Our poster series will be part of the International Chaumont Graphic Design Biennial this Autumn, which is a major spotlight to the project and to the importance of talking about and fighting discriminations and violence.
"Speaking about those experiences, sharing our testimonies, and finally addressing them allowed many others to feel valid reporting what they themselves had suffered."
As our platform grew, we started to notice a growing community of support around us. Speaking about those experiences, sharing our testimonies, and finally addressing them allowed many others to feel valid reporting what they themselves had suffered. That has had a snowball effect, and it now feels like we are finally speaking out as a community. There is now a militant collective in our school—La claque—bringing together students from all departments and years. We keep receiving messages from enthusiastic teachers, who are happy that these issues are being finally exposed. Many teachers even introduced Les Mots de Trop to their students as a reference in the intersection between graphic design and activism. In the meantime, several Instagram accounts popped up to denounce abuse in art schools (@balancetonecoledart and @balancetonecoledart_marseille), in architecture schools (@balancetonarchi), but also in art institutions (@myartnotmyass). More and more student-led actions emerged. They formed collectives, listed abuses, created journals, launched debates, and organized sessions. Blackflowers fight against racism in art schools, La Buse collects testimonies about abuses in art institutions, the Cybersistas and ISBAsta try to make art schools more inclusive, and Le Massicot organizes meetings between students from different schools to talk about contemporary issues. Many more groups are being created and taking action, including MOCO, Show revue, and Les Gredin·es.
Something in the foundation of art schools has finally been shaken. None of these issues are new. What is new is the amplitude and the volume of the voices of victims. It is now up to the schools and institutions to follow their students in this revolution, and take responsibility to make the changes we demand. One voice is but a whisper, but as a collective we have the power to scream, to shout, to say: "Enough!"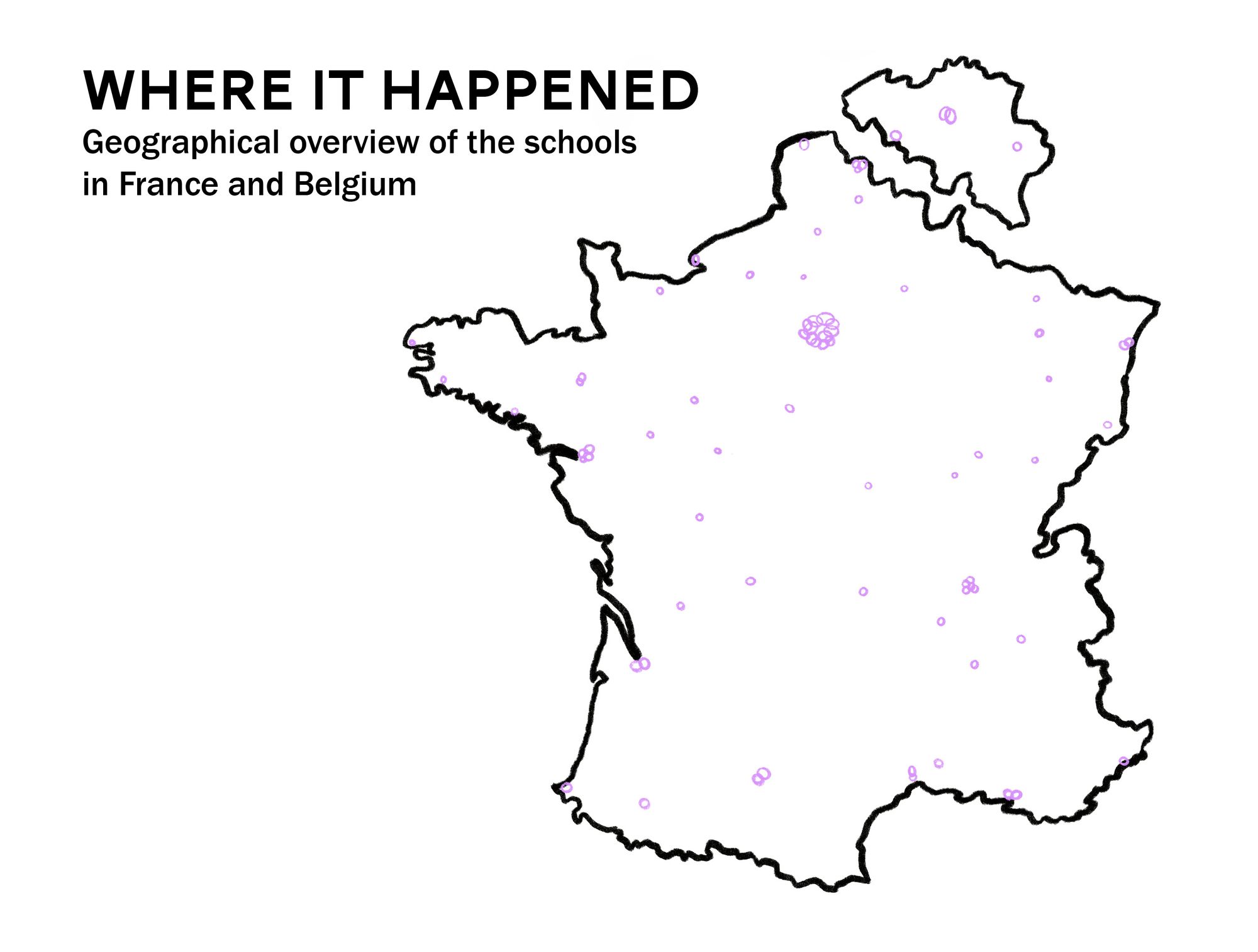 
---
Les Mots de Trop is a collective aiming to fight against all form of discrimination within art schools, composed of Sophie Vela, Louna Amisse and Agathe Delrue. We're students evolving in the graphism and cultural journalism field.

An earlier version of this text included insensitive language around suicide. A reader contacted us, reminding us that "the wrong words can put people at risk." We are always grateful for the engagement of our readers and stand committed to continuously learn and do better.

The title of this vertical, Complaint Collective, is an homage to Sara Ahmed, whose ideas have been and continue to be extremely influential to Futuress. In killjoy solidarity, we stand!