---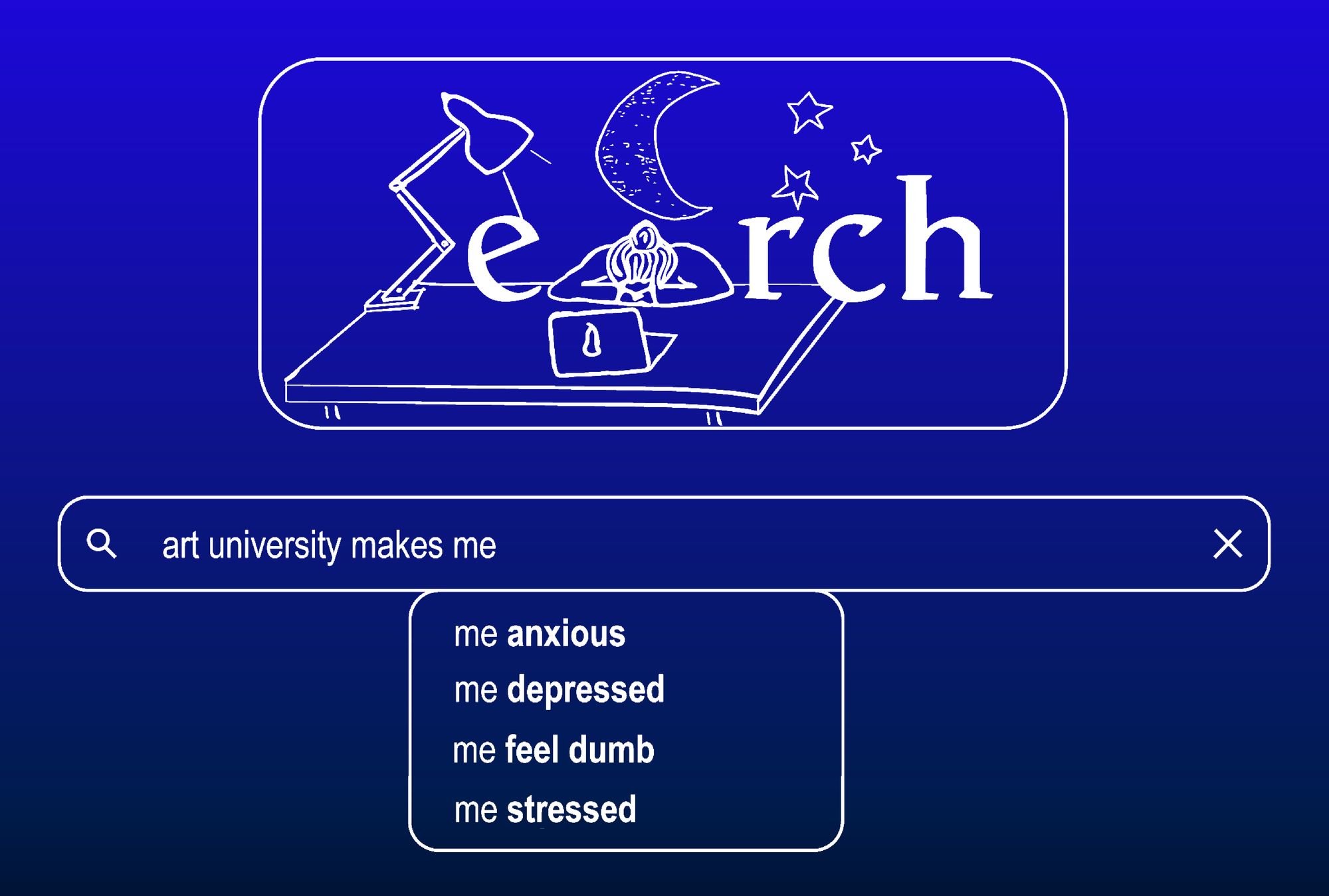 Architecture and design students—past and present—know what coffee tastes like at 3 a.m. I always try my best not to let it come to that, and yet, usually something happens, and here I am, pulling an all-nighter again. Despite my best efforts, all too often I find myself fighting off sleep in the name of education. When I started writing this text, I was in the final stages of my MA in Industrial Design at the Burg Giebichenstein University of Art and Design in Halle, Germany; now, I have just finished my thesis. I suppose I agreed to write this article out of habit, uncomfortable with the thought of focusing on just one thing.
In 2019, I reached my breaking point. I was completely overworked, gripped by the perfectionism inspired by an uncertain future. It was to the detriment of my creativity. To make matters worse, I was working on a group project. Stopping meant letting my team down, so I pushed on. I came home from school exhausted, unable to do much more than sleep.  
Then, my dad got sick. Suddenly, I was torn between two cities, Munich and Halle. Family and future—or at least that's how it felt. Exhaustion repels perspective. I swallowed my pride and I spoke with my professor. I told him that I was failing, and that I just couldn't keep up anymore. "It's only school," he said. "Pack your things and take as long as you need! I'll handle everything here." That was what I needed to hear: that my burden was exceptional. Why am I telling you this? Because my problem was not the exception. My problem was the rule.


Overwork or self-empowerment?
Since November 2020, I have been collecting anonymous experiences about consequences relating to overworking, exploitation, precarity and mental health issues from students of art, design and architecture via the public online questionnaire Long Nights. Students from Germany, Austria, Switzerland, Iceland, Portugal, and the United Arab Emirates have already used this platform to share their experiences.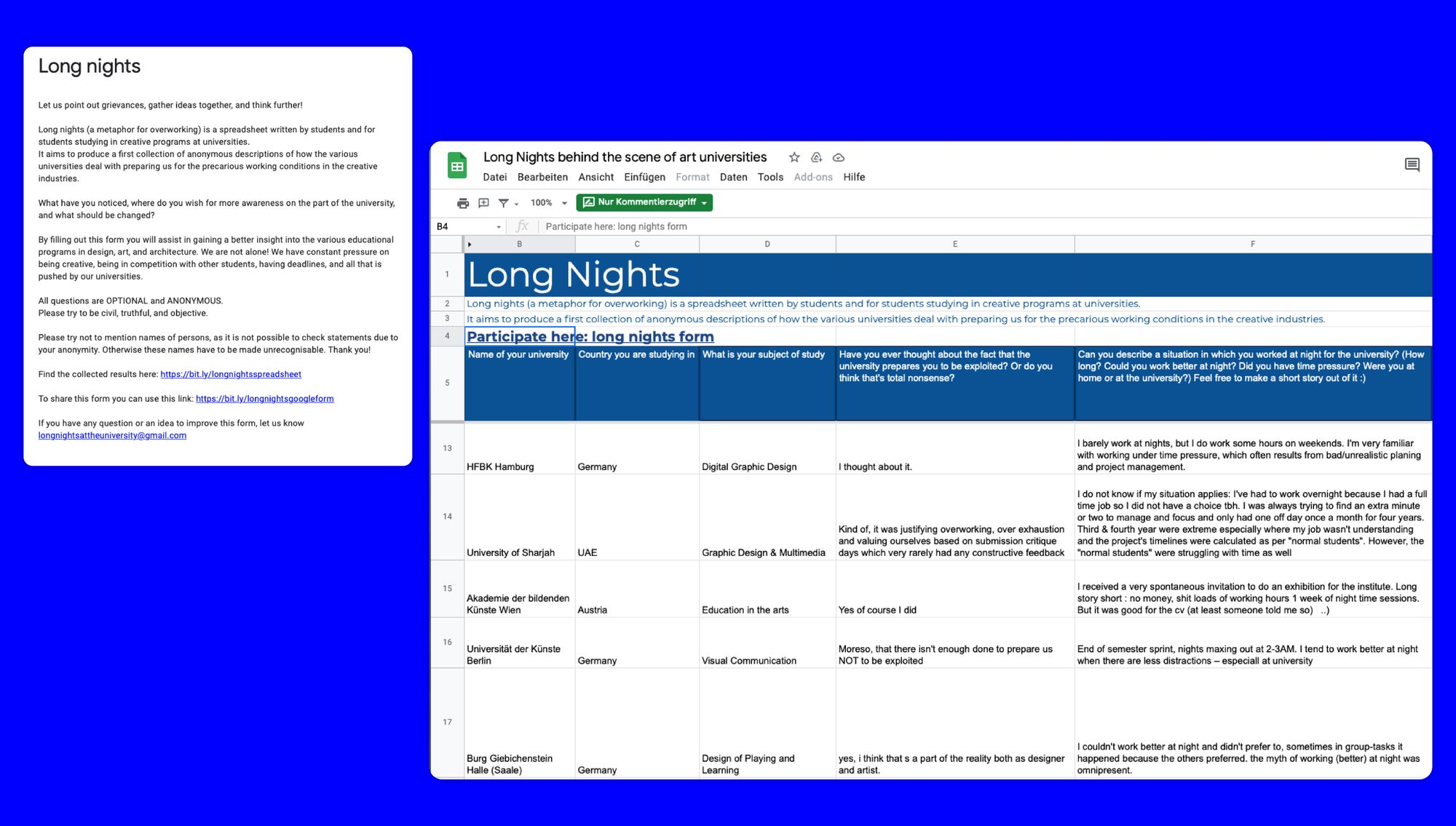 I can relate to several of the anecdotes collected there. One student recalls staying at school so late that "it was no longer worthwhile going home," while another describes how in their first year it was cool to hang out at school in the night, drinking beers until 4 a.m.—a practice which quickly turned into a sort of competition, with students comparing battle scars like having to keep a toothbrush at school. Yet another student mentioned that the night before an assignment is due often turns into a party, but this was seen as fun—though some students do take it too far and sometimes get very little sleep for about a week, in order to meet their deadlines. Overall, the majority of accounts echo my experience: long nights seem completely widespread.
But are they always necessarily bad? For one student, working late into the evening means less distractions, especially when working on campus. Another seems to relish "sitting in the studio all alone, listening to late-night jazz, the radiator warming my feet, drawing and feeling the flow," while another frames long nights as a "conscious choice." The majority of narratives, however, describe long nights as negative, if not unavoidable, experiences. A few students blame their own procrastination for the long nights, with one saying: "I'm somewhat lazy and a bit too perfectionist, and that combination doesn't go well." Another student describes having to work late into the night to manage a full-time job, but stresses that fellow students without jobs were also struggling to keep up.  
It's alarming to notice that the vast majority of accounts see long nights as negative consequences of time pressure imposed by their schools, sometimes described as "extreme." One student describes how, usually before a presentation, and at least two or three times per semester, they would work the whole night and continue throughout the next afternoon. Several others confirm this pattern, which tends to occur either at the end of the semester, or before exams.
A few voices are far more worrying. "Sometimes I have moments I just want to cry" writes one student, while another—who was too tired to even write their long story—simply responds: "You know why." One student reports suffering from panic attacks triggered by stressful days at school, often involving presentations. "[It's] just the usual severe stress, fear of missing out, and feelings of insufficiency," normalizes another student. Another student reports having had a mental breakdown, and one submission even recalls knowing of five suicides during their six years of study.
"If long nights are so embedded into the [education] program, what exactly are students being trained for?"
Several accounts relay instances of anxiety triggered by assignments, but also by the perspectives of uncertainty and precarity for life after school. "I often feel insecure and useless, and I'm scared of the future after my studies," states another submission. Another says that although the university is not the reason, it serves as the trigger for depression. Another account complains of a lack of communication between the various classes, which reinforces the time pressures imposed by their schools; and around half of the submissions describe professors as workaholics. It all begs the question: if long nights are so embedded into the program, what exactly are students being trained for?


Give it your all
Those who start studying design usually have no idea about what design is really about. That image starts to be formed right at the beginning of the course: a myth is built up about how to work, how to speak, what is okay to complain about, and when to keep your mouth shut. One student remembers hearing during an introductory lecture: "Welcome to the study of architecture. I recommend that you give up your flat and end your relationship. You no longer have time for that. From now on, your life will only take place here."
"[Schools] prepare us to be exploited," says another anonymous submission. "Professors demand us to commit ourselves entirely to our work, without care for our health, oftentimes setting tight deadlines and huge workloads." According to this student, such an approach is tied to other practices, including tearing students' work apart in harsh, brutal critiques. "[Teachers] constantly tell us that they are preparing us 'for the outside world,' but I've never experienced clients who were as contradictory and bad as some of my professors," says the same source.
Another student points out that "by telling us it's not getting better in work life later," the school is clearly preparing students for exploitation. "They said that they want to prepare us for the exploitative labour market. But they didn't step back to understand that teaching like this is really unreflected and counterproductive to health and environment," says another submission.
The majority of the submissions report having had no discussions in school around unpaid internships, although most define them as outrageous. Creative people often have to deal with the fact that their work is not taken seriously, because it is considered to be "pleasant" or "fun." "I think we should not be trained to do work for friends," says one submission, recalling an incident with friends from outside the university asking them to design something, but being unwilling to pay for it. "It would be nice to hear from professors that you are worth getting paid for your work, and not that it is normal to help out all the time," says another account.
"I know many quit their jobs because they can't stand the conditions. But shouldn't a job be designed so that you can do it all your life?"
I have the impression that today, more and more graduates from my university choose self-employment as a career path—but self-employment does not always mean freedom and success. On the contrary, often it goes hand in hand with precarious working conditions. Short project periods and irregular work lead to someone being constantly ready to work, and this in turn leads to overwork and insecurity. I know many quit their jobs because they can't stand the conditions. But shouldn't a job be designed so that you can do it all your life?


Setting the Bar
The question of how design can contribute to ecologically and socially just economies is central to the practice of design researcher Bianca Elzenbaumer, whose PhD thesis, Designing Economic Cultures looks into the tense relationship between the production of socially and politically relevant design work and socio-economic precariousness. According to Elzenbaumer, schools teach students to be designers 24/7. She states: "[T]he centrality of creativity, affects and knowledge to the work of designers tends to incorporate all they do, feel and experience into work, but simultaneously sees work leaking into all they do." Indeed, this seems to be built into the structure of the school, with the overwhelming majority of Long Nights submissions stating that students have access to school facilities on a 24/7 basis.
Elzenbaumer, who runs the design studio Brave New Alps with Fabio Franz, explained how the duo first started working together, after they met in design school in Italy. They were not interested in the tasks they got at school, but rather in the activist activities that design could be useful for. When seeking funding, they were advised to do conventional design and work on their socially engaged design and environmental activism in their spare time. This led them to start researching why the working conditions for activist designers are so precarious. It quickly became clear these conditions were common for independent designers of all kinds. This was starkly demonstrated in their survey from Italy, Designers Inquiry. Their research led them to write Precarity Pilot, in which they lay out strategies to help designers question and resist the assumptions that both stemmed and continue to sustain these precarious conditions.
In 2013, Brave New Alps did a one-day design workshop in Bristol focusing on working conditions. In the morning, they sent participants into town in pairs to speak with people in the bank, at the hairdresser, at their favourite café, etc., about their working conditions. They had to ask how much they earn per hour, how they feel, and so on. When they returned, they were asked to make posters using the information they had gathered.
At the end, they asked the participants to write on the back of the poster how much they thought the poster was worth. "Some students thought it was worth £5. A whole day's work by two people. So there's a total lack of feeling about what your work is worth. If I were a craftsman, how much would it cost? A bricklayer in Italy gets around 35€ an hour. This poster would have to cost at least eight times 35€ times two, just to cover the working time."
"Often, designers seem to present themselves first, and then their design, says [design researcher Bianca] Elzembaumer, who also stressed how design is always also about being productive, and even free time becomes productive time."
It is not just the lack of knowledge about how much one's own work is worth that leads to precarious conditions in the design industry. Psychological pressure is also not uncommon. For Elzenbaumer, the design field pressures everyone to embody what you design in some way in order to be successful. This is echoed by an account on Google Form Long Nights: "Sometimes I get the feeling that being a professional in art or design is so much about pretending, and that everybody hides their insecurities to not have any disadvantages." Often, designers seem to present themselves first, and then their design, says Elzembaumer, who also stressed how design is always also about being productive, and even free time becomes productive time. She talks about her friends from Milan who meet colleagues for drinks after work. Over a glass of Aperol, they chat and develop ideas for work, which is how jobs come about. But, as she points out: "You can't drink a glass of Aperol if you are sick at home or [taking care of] your family; then you don't get any assignments."


Torn between overworking and passion
In 2019, I helped organize Hurra Hurra, a student-led festival on design education. During planning, we spent a lot of time thinking about how we want to learn. We also questioned why the professor serving as our advisor intended to have a significant stage presence during the festival, since Hurra Hurra is meant to be planned by students. As a result, we devised ways to bring everyone to the same level. For example, hand signals were used to indicate who wanted to say something. There were also signals for: "wrap it up," "you are getting off topic," "I agree," etc. A moderator from the student body decided who would speak and in what order. The festival turned out great—full of fantastic contributions, including many discussions about whether we should be educated for the "real world" or the ivory tower.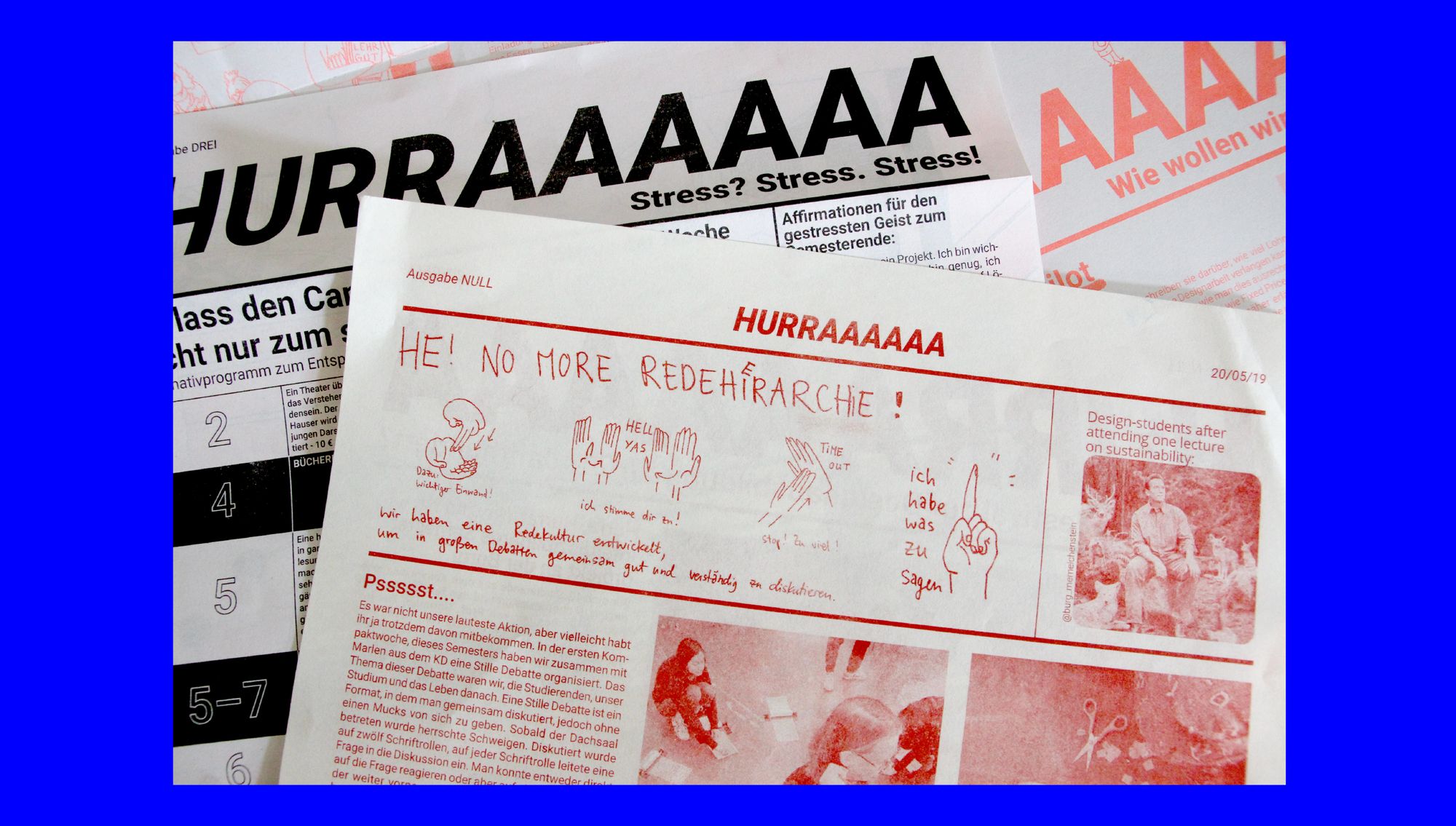 Organizing the Hurra Hurra Festival was a big responsibility, and it took a lot of time and long nights, and it even required us to work into the semester holidays. At my university, we get 20 ECTS points for a project that lasts over one semester. According to the study regulations, one ECTS point is worth 25 hours of work, which means that you should work on a semester project for a total of 500 hours. When it became clear that organizing Hurra Hurra would require us to work well over 500 hours, we came up with strategies to show how many hours of overtime (unpaid) work we had done. One idea was to have a countdown with the sum of all our hours, but that would have meant that in addition to organizing, we would have had activist work during that time.
"Where else, if not in the university, are students supposed to learn that their work has value?"
Our predicament was echoed by many accounts. When questioned if they have ever done unpaid work to promote their university, one person said: "Oh, so many times! Especially when it comes to political topics!" This student describes organizing a seminar about the climate crisis which required investing one day's work a week, without the university supporting the seminar financially, "though the university loves to use us as a good example, for what is going on climate-wise at the institution." Another student says that although the university legally only allows students to work 20 hours per month, they had worked for a professor and had over 150 overtime hours, which remained unpaid. The student explained: "I liked the job, because I learnt a lot, but felt exploited." It begs the question: where else, if not in the university, are students supposed to learn that their work has value?


Let's break the vicious circle
Even though Covid-19 has made the situation of some designers even more precarious and uncertain, this issue was relevant even before the pandemic, and continues to be. This makes it all the more important to push for change, because students already experience anxiety when they think about their future. When universities try to prepare students for a stressful professional life, it triggers even more stress. I know many students who suffer from mental health problems, but the polished world of design seems to leave no room for vulnerability. As long as no one talks about it, those suffering look for the fault in themselves instead of in the system. In order to break the culture of overwork and the mental instability of students at art colleges, changes need to be made both to the working conditions of designers and artists, and to the university's structures that prepare them for work in this industry.
"Long nights discriminate across the spectrum of gender, race, class, and moreover—they are a first barrier for designers to access the field.  Shouldn't we seek to make our industry accessible to everyone?"
Learning how much your own work is worth helps protect you from being exploited. Working all the time, being flexible all the time, even at night, is no longer possible when you have a child, or when you care for others, or when your socioeconomic background requires you to work alongside your studies. Long nights discriminate across the spectrum of gender, race, class, and moreover—they are a first barrier for designers to access the field.  Shouldn't we seek to make our industry accessible to everyone? And shouldn't it be the universities in particular that start to bring about this change? Isn't it also beneficial for universities to have students who are not overworked but full of creativity, who can look forward to a sustainable career? Should we only think about the content of future design studies, or also about how we can establish healthier work structures in our industry?
I'll finish with a request: Dear universities, dear professors, let us together put an end to overworking as a culture. I know that you are not all trained educators, but please, as long as you are teaching, take some responsibility when figuring out how to change the current working conditions. Ultimately, it is not design-like to take conditions for granted without questioning them.
This issue needs much more discussion and people to take it on. But until then, I am diligently collecting policies and roadmaps for universities, professors and fellow students to be mindful and pay more attention to these topics. As soon as they are in a presentable stage, I will be happy to share them with you.
Follow Long Nights on Instagram (@long_night_official) to stay up to date. And if you have your own experiences, suggestions for solutions, or want to participate, please get in touch via longnightsattheuniversity@gmail.com.

Sophie Thurner (she/her) is a trained industrial designer and researcher. She is interested in design education and has co-organised the Hurra Hurra International Festival of Design Education for the 21st Century.
This text was produced as part of the Troublemakers Class of 2020 workshop.

The title of this vertical, Complaint Collective, is an homage to Sara Ahmed, whose ideas have been and continue to be extremely influential to Futuress. In killjoy solidarity, we stand!